Landis+Gyr Accepts Frost & Sullivan Global AMI Company of the Year Award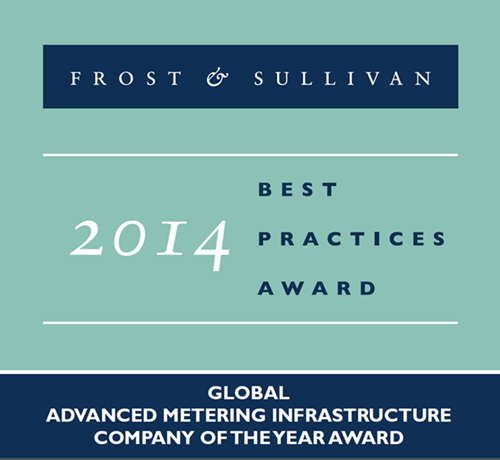 Second award in two years recognizes exceptional all-round performance in advanced meter infrastructure market 
Zug, Switzerland – September 17, 2015 – Landis+Gyr, the world's leading provider of smart grid and smart metering solutions, received the 2014 AMI Company of the Year Award at the Frost & Sullivan Growth, Innovation and Leadership Awards Gala held in Santa Clara, California last night.
Frost & Sullivan Best Practices awards recognize companies in a variety of regional and global markets for demonstrating outstanding achievement and superior performance in areas such as leadership, technological innovation, customer service, and strategic product development. Industry analysts compare market participants and measure performance through in-depth interviews, analysis, and extensive secondary research to identify best practices in the industry.
"Landis+Gyr has been highly successful in helping utilities improve the efficiency of their energy networks, reduce energy costs, and contribute to a sustainable use of resources, ultimately helping them realize the full potential of the smart grid.  It is among the few companies in the AMI sector that is capable of providing a truly end-to-end solution," noted Frost & Sullivan Research Senior Industry Analyst Gautham Gnanajothi. "It has a comprehensive product portfolio, which is among the largest in the industry, and it provides solutions that are not only tailored to suit the current needs, but are also designed by anticipating future needs.
As the world's leader in advanced metering solutions, Landis+Gyr has delivered smart metering solutions to over 1,000 customers worldwide and has an installed base of over 300 million electricity meters. In the last 18 months, the company has unveiled a number of groundbreaking contracts with utilities across the globe, including those in Brazil, Japan, the Netherlands, the U.K. and the U.S.
"Landis+Gyr is very proud to have been awarded this distinguished recognition by Frost & Sullivan for the second year in a row," said Prasanna Venkatesan, Landis+Gyr's President and CEO for the Americas at the award presentation. "Being named as the 2014 AMI Company of the year is a testimony to our 5,700 employees, and their tireless efforts. This award means a lot to us and our customers world-wide. It further validates their trust and confidence in selecting Landis+Gyr for the investments they are making to build a smarter and more resilient electricity grid."
About Landis+Gyr
Landis+Gyr is the leading global provider of integrated energy management products tailored to energy company needs and unique in its ability to deliver true end-to-end advanced metering solutions. Today, the Company offers the broadest portfolio of products and services in the electricity metering industry, and is paving the way for the next generation of smart grid.  With annualized sales of more than US$1.5 billion, Landis+Gyr, an independent growth platform of the Toshiba Corporation (TKY:6502) and 40% owned by the Innovation Network Corporation of Japan, operates in 30 countries across five continents, and employs 5,700 people with the sole mission of helping the world manage energy better.
MEDIA CONTACT
Regional Contact Americas
Senior Marketing Manager
+1 320 307 7486