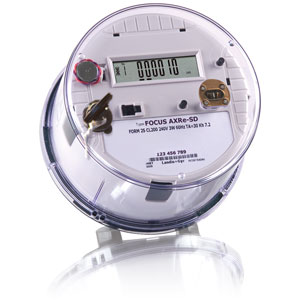 Electricity Meters
E331/E351 FOCUS AXe/AXRe/RXRe
The FOCUS platform for advanced metering and smart grid applications is designed to enhance your sensor ecosystem with industry-leading reliability and innovative features. Expanding on Landis+Gyr's proven and industry leading AX solution, the FOCUS AXe-SD provides enhanced security with tamper… Lire la suite…
Caractéristiques
Two, simultaneous demands kWh and kVA or kVAR
Detect meter removal/insertion from meter socket
Power quality data (sag/swell)
Most advanced cam-driven switch design to withstand 10K cycles at full rated current
Switch continues operation even under low voltage conditions
Expanded non-volatile memory
Magnetic/DC presence detection (based on leading current)
Optical port lockout/open
Supports two methods of calculating kVA/kVAR covering Q1-Q4 quadrants
Enhanced power supply
Surpasses ANSI requirements for surge protection (10KV) and meter accuracy
Motor-cam driven service disconnect integrated into meter base
8 channels of load profile
Fonctions
With capabilities like dual-demand, recorder, and reactive, the FOCUS AX metering platform (including the FOCUS AXe, AXRe, and RXRe meters) can accommodate next generation applications* (pre-pay, power quality, tamper detection, etc.) to enhance the value of your meter sensor ecosystem.
The E351 incorporates a 200A, motor driven, cam action disconnect/connect switch under the meter cover. This advanced, market-leading switch, coupled with the field-proven reliability of the E351, delivers Landis+Gyr's third generation design answer to today's evolving utility requirements.
Variantes
Real time rate input (optional)*
Advanced over-the-air-flashable firmware upgrades avoids loss of billing or configuration data*
Pre-pay ready*
*Select features rely on a communications module. Meters that are AMI-enabled with communications are clearly labeled on meter face above digital display.